Bill Carrothers Trio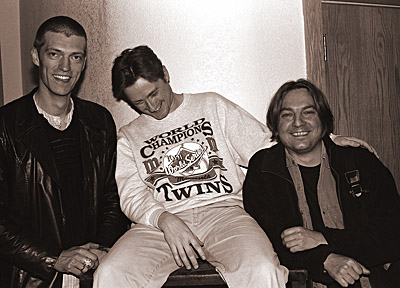 Pictures:
(If you click on the thumbnail you get a 2-3Mb
high resolution jpg suitable for reprinting)
Swing Sing Songs
CD cover
Bill Carrothers Trio
Bill
Carrothers
Nicolas Thys
Dre Pallemaerts
Reviews:
Bill Carrothers Press Releases

BBC 3's Brian Priestly picks Swing Sing Songs as Top 5 of 2001
KLASSIK Heute - May, 2001
O. Hochkeppel
Rarely does one encounter a CD as beautiful as this one.
Jazzman Magazine - March 2001
4 stars

Son précédent album en duo avec le batteur Bill Stewart relevait de la pure improvisation. Sur la corde raide, Bill Carrothers imposait son savoir pianistique, se livrait à d'acrobatiques variations mélodico-rythmiques et nous confiait le meilleur de son art. Dans le cadre plus classique du trio, le pianiste adopte ici une autre démarche. S'appuyant sur la basse de Nic Thys, sur la batterie de Dre Pallemaerts, Carrothers, plus proche du swing et de la régularité rythmique, approche calmement les mélodies pour mieux en dégager la beauté. Les réharmonisant avec tendresse, il prend son temps, aère ses notes à l'écoute di ses sensations, conduit son piano au plus près de ce qu'il entend. Sa musique, truffée de citations, se nourrit encore beaucoup de celle des autres, de l'étude des pianistes qui l'ont précédé, de Bill Evans à Keith Jarrett dont il partage le délicat toucher. Comme ces derniers, Bill Carrothers a du feu dans les doigts. Sa vivacité tempere et equilibre ses penchants romantiques. Couleurs impressionnistes et virtuosité instrumentale se rencontrent pour mieux nous séduire.
- Pierre de Chocqueuse -
TRANSLATION:
The preceding album in duet with the drummer Bill Stewart concerned pure improvisation. On the tightrope, Bill Carrothers imposed his pianistic knowledge, devoted itself to lifting melodic-rhythmic variations and entrusted to us the best of his art. Within the more traditional framework of the trio, the pianist adopts another step here. With bassist Nic Thys, and the drums of Dre Pallemaerts, Carrothers, nearer to the swing and rhythmic regularity, calmly approaches the melodies for better releasing the beauty from it. Reharmonizing with tenderness, he takes his time, airs his notes with listening to his feelings, and leads the piano closest to what he hears. His music, filled with quotations, still nourishes much of that of the others, of the study of the pianists who preceded it, of Bill Evans or Keith Jarrett, of which he shares the delicate touch. Like the latter, Bill Carrothers has fire in the fingers. Its promptness tempers and balances its romantic inclinations. Impressionist colors and instrumental virtuosity meet to allure us.
Citizen Jazz - March, 2001

The preceding disc of the pianist Bill Carrothers was received successfully by the critics and the public. This one would not owe démériter. In trio with two Belgian musicians (and once again Belgium is becoming a formidable fish pond of young and good musicians) bass player Nic Thys and drummer Dre Pallemaerts. The pianist, often compared with Brad Mehldau, has a delicate and very melodic style. C'est a music d'intérieure. A music which forms in silence. Slow tempo, the right hand walks, constant by agreements in arpeggios, delicately posed. Fast tempo, (enough rare) the left hand is done more miserly, and plates some harmonic reference marks. Here it is the right hand which speaks, which jumps, which runs. Environments are felted and are partly due to the cymbals of Pallemaerts, very light and which wrap the speech well. Thys has a round and hot tone privileging the low registers. Carrothers thus remains the inspired and reserved pianist whom we know.

Matthieu Jouan
Le Monde - July 26, 2000
Last night we received the trio of the American pianist Bill Carrothers, in Corum, Pasteur room. During the first 20 minutes, Bill Carrothers played on the airs of the time of the American Civil War. In blue and grey hues, they are evocations of lost or gained battles, nostalgias of the Old South, the magnitude of Lincoln. They are blues registered in the history that the pianist, born in Minneapolis in 1964, likes to put in his repertory, as a memory of old times which would answer its own compositions of this young enchanter.

Other topics are played in trio with the double bass player Nicolas Thys and the drummer Dré Pallemaerts, two solid, pointed Belgians. With the pace of unspecified students, these three do not have the air of anything. But what a group! What desire for playing, for benefiting from the least spaces without putting on too much for the eyes and the ears. No overload in the solos, nor the will to impress but, quite to the contrary, the search for economy, the most adequate gesture, so that the rare beachcombers are recipients of many revivals.

One lets oneself slip towards the tenderness of "Water Babies", a tune by Wayne Shorter which the apprentices of jazz should more often explore. There is also this delicate stretching in "Ballad of Billy Milwaukee", a tune of Carrothers', and "Waltz Macabre", also by Carrothers, in the sometimes nightmarish manner of circus music, which could bring to mind Thelonious Monk, when it sought in the examination the most beautiful notes and did not want to be detached.

All is there; The play of the body in agreement with the music, of the murmurs which underline a flight. This quiet group has a beautiful future.
Le Telegram - Brest 3/4/00
Superbly beside its pumps the amateurs of jazz which attend Quartz, owe their more beautiful emotions to the pianists. One remembers, with autumn last, the memorable service of Herbie Hancock. One can also not forget the passage in the night of an angel by the name of Brad Mehldau. The reference to this last pianist is to locate the level in the concert offered Friday evening by Bill Carrothers.

Especially like its fellow-member, it teases with wonder the keyboard, likes to explore the infinite richnesses of the traditional trio with bass-drums (rhythmic impeccably controlled here by Nick Thys and Dré Pallemaerts) and to beat about the bush of standards to uproot them a little or to thin out the leaves of them learnedly, in order to better extract a new truth from them. But as much Brad Mehldau on scene privileges introspection and secrecy, at the point of exchanging no words with its audience, this American is a rather communicative kind, even familiar. With the surprise of those which had had curiosity to listen to the first two albums, therefore brilliant and purified, the strapping man had chosen a festive, cordial jazz and diablement charisma. One will retain for emotion, a very beautiful version of "Alone Together " or the ultimate recall, splendid and plentiful, on "Someday My Prince Will Come". But the magic unquestionably comes with a personal and dazzling arrangement of a Yankee anthem, then "Waltz Macabre" which made it possible for Carrothers to point out that jazz, while quite erudite is nothing without the popular music.

With much humor, of simplicity and freshness, with a beer at the side of the keyboard, and tennis shoes beside the bench, this new star brings proof, in socks, that one can have engineering while being in your stocking feet. This dense, fascinating and very successful evening had one disadvantage, its too short duration. The promoters wished to make the program end at 9:00pm, and suggested it begin at very practical hour of 7:30pm. The pianist understood well what occurred and seemed politely aggravated by this constraint. The 200 people present would have remained an hour more there. Apparently, the musicians too. Carrothers' trio still had happiness full in their book and had an obvious pleasure to share what was in it.
Nevers Jazz Festival
One saw it emerging without a loud bang, almost unknown, well sounded, the start of a surprisingly coherent musical universe, of a single sensitivity, a confusing stylistic maturity: Bill Carrothers, in a handle of miraculous discs of spectral poetry and some ecstatic concerts, has quite simply taken a lead in the contemporary jazz scene, like the revelation impossible to circumvent of the end of this century, the new phenomenon of the keyboard, inspired and daring. An astonishing control of technique, without giving in to the temptation of virtuoso demonstration; a musical culture chosen, naturally passing with fluidity, of the large Masters founders of the American music (emblematic in Charles Ives, a major reference), with the icons of jazz modernity (of Bill Evans and Herbie Hancock), while stopping with insistence on the extreme refinement of the erudite type-setters of the beginning of the century (Debussy, Bartok, Prokoviev); a sensitivity finally, perfectly singular, rich person of all these contributions, of all these brewed influences, brought up to date and transfigured by the grace of one touched miraculous of sensuality. In duet with its alter-ego the beater Bill Stewart for a music lyriquement abstracted or in trio like here, in a more conventional register paying homage to all the history of the kind, Bill Carrothers allures mainly by his single way to play with time, inordinately to stretch it to the point of giving the feeling of wanting to stop and settle and make its kingdom there. It is undoubtedly in this regressive and eminently nostalgic phantasm that hides the secret poetry of this pianist.