A Jazz Stalwart, Long Absent, Returns to the Village
By NATE CHINEN
New York Times - July 15, 2009

The pianist Bill Carrothers is a New York jazz expatriate, that rare creature who left the scene just as he was starting to make an impression. Reared in the Midwest, he returned there more than a dozen years ago, planting roots in the Upper Peninsula of Michigan and cultivating a fondness for snowmobiles. (Such trivia can be found at carrothers.com, along with a map complete with his address.) He never stopped playing or recording, but his bond with the nightclub ecosystem could reasonably be described as estranged.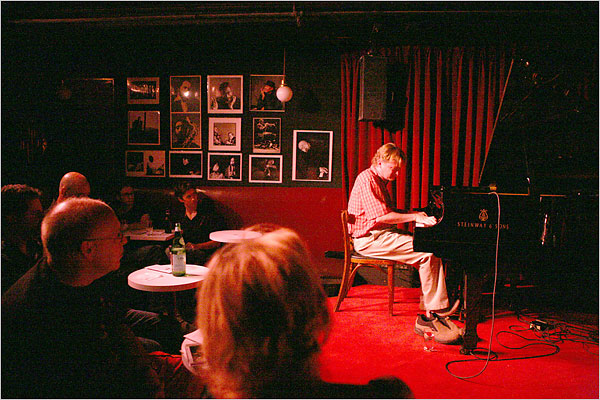 So it wasn't a shock to see the house only half full at the Village Vanguard during his first set on Tuesday night. Mr. Carrothers last held a weeklong New York engagement in 1990, at the Village Gate — long enough ago to dim the memory of even the most dedicated clubgoers. His albums have been released either independently or on European labels like Pirouet, which is recording this weekend at the club. Last year Pirouet released "Home Row," a superb trio album that Mr. Carrothers recorded in 1992.

Mr. Carrothers inserted the album's title track, a modified 12-bar blues, near the midpoint of his set. Backed by a pair of attentive Belgians — the bassist Nic Thys and the drummer Dre Pallemaerts — he made light sport of harmonic irresolution, swinging blithely at a medium clip. He struck a similarly brisk tone on "Discombobulated," a workout with a slyly convoluted melody and a chord sequence based on "I Got Rhythm."

Soloing on those tunes, Mr. Carrothers showed his capacity for digression, sometimes interrupting one line of thought to pursue another. He made use of a murky, two-handed rumble, but he also indulged in errant flashes, rippling quickly across the piano's chirpier register. His melodic tangents felt willful but empty of pretense, as if he were running across forgotten items while foraging in a kitchen cabinet.

Elsewhere he made room for solemnity, evoking the feathery calm of the Bill Evans-Scott LaFaro-Paul Motian Trio on "Step Lively (Junior's Arrival)," by Clifford Brown. (It might have been his nod to the Vanguard, where that Evans trio famously played.) An original, "Church of the Open Air," was even more tranquil, with its processional, elegiac tone. It sounded like a hymn, until the moment that Mr. Carrothers quoted "Dixie."

That wasn't the set's only vestige of Americana, which has long held Mr. Carrothers in its sway. "This Is Worth Fighting For," a song from World War II, appeared as a ruminative dirge. Far more appealing, though, was the closer: "Roses of Picardy," from the previous war. It progressed from a decorous hush to an arm-swinging stroll, unhurriedly but with a distinct sense of purpose.