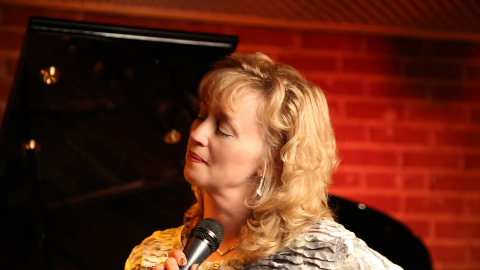 Peg Carrothers was born and raised in "Nordeast" Minneapolis. Her musical training began as a young child, learning songs from the family for every season and occasion, singing in church, and harmonizing out the window with her mother whenever a rainstorm was brewing. It wasn't uncommon to find her outside on a windy day making up songs and singing them high up into the trees.

A dedicated school music program allowed her to explore her talents further with leading roles in musicals and choir programs. Her love for song and a music scholarship led her to pursue a music degree at St Catherine's College and finish up at the University of Minnesota, studying in the classical opera tradition before vocal jazz was a developed curriculum.

It was during these early college years that she met Bill Carrothers, who

suggested

Frank Sinatra and Billie Holiday for her thirsty young jazz ears. A whole world opened up, and these voices, along with every sound that enters the heart of what music is, continue to be a great influence and pleasurable exploration.

Turning to the jazz community, she built a standard repertoire, performing in local venues with many talented musicians, with shows at the Dakota, Artist's Quarter, Crema Cafe, Fine Line, and numerous outdoor parks series. Along with Bill Carrothers she's shared the stage with Dean Magraw, Chris Bates, Jay Epstein, Jacqueline Ferrier-Ultan, Adam Linz, and others and is featured on cellist Matt Turner's CD, "The Voices That Are Gone" (Illusions). Other recording projects include, "Armistice 1918"

(Sketch)

,

"Playday",

"Blue Skies" (

Bridge Boy Music

)

,

and "Sunday Morning" (Vision Fugitive)

.

She has performed most recently with the 70th anniversary D-Day "War and Peace" project, commissioned by Jazz Sous Les Pommiers, and she was honored to sing with the American Boy Choir, Maitrisse and College de Periers choirs in Normandy, France in June 2014. She also performs with the Armistice 1918 group which has toured in many European cities and jazz festivals.

She is currently working on a tour in support of her new cd, "Edges of My Mind," on the Vision Fugitive label. The title cut was written by "Boe" Harbison, a singer-songwriter friend who passed from this world too early, but left behind a legacy of song. His poetry captures the tangential thoughts that become a springboard for the rest of the cd. The musicians' sounds create a supportive "wall of sound," blending with the vocals to enhance the mood of quiet reflection. "Hold On" is

Peg's

original song, written under Boe's wings.

She currently calls the

Upper Peninsula

of Michigan home, taking comfort among the trees and listening to the magical, musical sound of white pine needles in the wind. She performs at local folk gatherings and enjoys watching her children grow and learning the gift

s that

music brings.