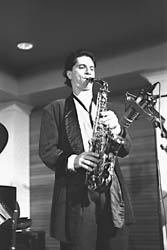 Bill Stewart
To people familiar with the modern jazz scene, drummer Bill Stewart needs no introduction. Originally from Iowa, his resume is impressive, including recordings and tours with John Scofield, Lee Konitz, Jim Hall, Maceo Parker, James Moody, Larry Goldings, Marc Copland, and many others. His debut recording as a leader on Blue Note Records, "Snide Remarks", with Joe Lovano, Eddie Henderson, Bill Carrothers, and Larry Grenadier garnered rave reviews from all the major jazz publications and received "10 Best Jazz Records of 1995" honors in the New York Times. His latest release, "Telepathy", also on Blue Note, features Seamus Blake on tenor and Steve Wilson on alto. Bill currently resides in the Eighth Circle, Fourth Pouch, where Diviners, Astrologers, Magicians, all have their heads turned backward.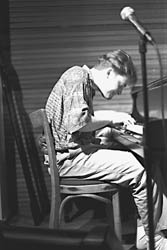 Anton Denner
Anton Denner is originally from NY. He has performed at local venues such as Birdland, Knitting Factory, Visiones, and the Village Gate. After early studies with Joe Lovano and Lee Konitz, he has gone on to perform with Mel Lewis, Ray Charles, Terrel Stafford, Clifford Jordan, and Warne Marsh. He has taught flute and improvisation at Stanford University. He currently resides in the Eighth circle, Tenth Pouch: Falsifiers of Metals, plagued by scabs, lying on the earth, scratching furiously.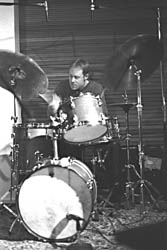 Bill Carrothers
Bill Carrothers was born in Minneapolis in 1964. Over the years Bill's sideman credits have included some of the greatest names in jazz, including Gary Peacock, Joe Beck, Buddy DeFranco, Curtis Fuller, Eric Gravatt, Tim Hagans, Billy Higgins, James Moody, Matt "Guitar" Murphy, Prince, Dewey Redman, Bobby Rivkin, Charlie Rouse, James Spaulding, Terrell Stafford, Ira Sullivan, and Benny Wallace. Mr. Carrothers has recorded as a sideman for drummer Bill Stewart on two recordings, "Snide Remarks" and "Telepathy", on the Blue Note label, and on Dave Douglas' "Moving Portrait" on DIW. Mr. Carrothers resides in the Ninth Circle, Third Ring, Ptolomea, where Traitors against their Guests jut out from ice, their eyes sealed by frozen tears.